Dance Connection was opened in 1997 by Bob and Jacquie LePlatt and their daughter Deb Chongway.  The family business was ran by Ms. Jacquie and classes were taught by Ms. Deb, we started with approximately 20 students and over the past two decades have grown tremendously.  Today Dance Connection has been one of the most successful and longest running dance studios in Trinidad.  Offering classes in Tap, Jazz, Musical Theater, Hip Hop and Gymnastics from beginning to advanced classes.  The studio prides itself on teaching the art of dance along with building self-esteem, confidence and individuality.  Students are encouraged to express themselves and their own uniqueness through the movement of dance.  Our instructors and choreographers build a special bond with every one of their students.  Dance Connection is proud of the Regional and National dance titles they have won over the years including Rainbow National Dance Competition's National Video of the Year winner and naming our studio "A Diamond in the Rough – A Huge Heart in a Small Town"
---
Deb Chongway: Owner/Director/Choreographer/Instructor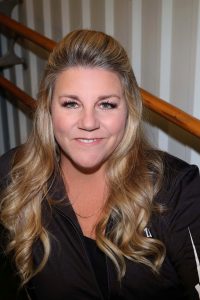 Co-founded Dance Connection along with her parents Bob and Jacquie LePlatt.  Ms. Deb started dancing at the age of 3 in Denver, Co.  where she studied tap, jazz, and musical theatre at Bernie Roberts School of Dance and studied ballet at Julia King's Ballet Academy.  Ms. Deb has held many titles regionally and nationally in Colorado, Nevada, Arkansas, Missouri, Kansas and Minnesota as a performer and choreographer.  Ms. Deb eventually bought the Bernie Roberts School of Dance when she was 21, when Ms. Deb and her husband Jim started their family they relocated to her hometown of Trinidad and opened Dance Connection.  Ms. Deb has attended many Master Workshops with renowned choreographers such as Mia Michaels, Danny Hoctor, Rhee Gold and Gregory Hines to mention a few.  Her choreography has included stage performances: "Little Mary Sunshine, "Grease" and "Singing in the Rain".  She has choreographed for many high school dance teams and cheer squads as well as doing choreography for special occasions such as weddings, rodeos and quinceaneras.  Ms. Deb specializes in tap, jazz and musical theatre.  Ms. Deb has an Associate Degree in Paralegal Studies, a Master Trainer certificate in "A Matter of Balance"  and is a certified Arthritis Exercise Instructor, as well as many Master Class workshop certificates including classes from STEPS and Broadway Dance Center in New York.  Ms. Deb has a true passion for the students she teaches, her amazing ability to work with children of all ages is truly a gift.  Her choreography is creative, imaginative and always age appropriate, she encourages her students to embrace themselves in a loving and caring environment.  Ms. Deb has taught thousands of children over the span of her dance/teaching career and has created a special bond with them to this day.
---
Ms. Lesley: Choreographer/Instructor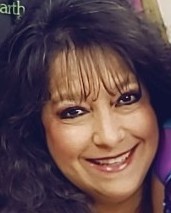 Ms. Lesley's love and interest in gymnastics began in 1979, when she participated and competed in her school's gymnastics team. She also joined and competed on her high school weight lifting team (taking a State 3rd place medal in her weight division.)
Then 26 years ago, Ms. Lesley moved to the Trinidad area, and sought out a gymnastics program for her daughters. They practiced and began to compete with the Southern Colorado Gymnastics Team. Ms. Lesley started as an assistant coach with Southern Colorado Gymnastics in 1998.
In 2007, Ms. Lesley also signed on with Dance Connection, as their tumbling coach. She also coached the Hip Hop classes for Dance Connection for several years.
In 2008, Ms. Lesley and her daughter's were invited to participate in "Spirit Fest", in Denver, Colorado with a Hip Hop routine. This in turn led to an invitation to product and perform for the Creative Arts Center in Denver. The production presented was "A Family Affair". "A Family Affair" was all family based performances, which included vocal acts, drumming, dancing and comedy". This was an outstanding opportunity for Ms. Lesley, and one she greatly appreciated.
Ms. Lesley has taken some tap, some ballet, many classes (mostly hip hop) in New York, Latin classes and has enjoyed them all. Not only does she love the gymnastics portion of her position with Dance Connection, she enjoys the opportunity to incorporate the dance forms into her routines.
Ms. Lesley is one of three generations to be a part of the Dance Connection family. It has enabled her to dance with her daughters (Whitney and Deidra), and now with her grand-daughters (Nevaeh and Haven). She gives her whole heart to all of her students, and takes great pride in teaching them to tumble safely. "My goal at Dance Connection is to share with my students a love for gymnastics, while watching them grow, develop, and build their confidence in themselves. We can share this experience together, and express ourselves as a team and family, and have these memories to share forever."
---
Kaitlin Cress: Choreographer/Instructor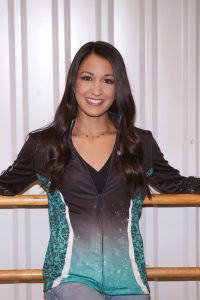 My name is Kaitlin Cress, and I was born and raised in Trinidad, Colorado. I have been with Dance Connection for 17 years. I became a Dance Connection dancer at the age of 12, where I feel in love and was trained in jazz, tap, ballet, and hip hop. I competed under Ms. Deb's wonderful instruction for multiple years and attended multiple competitions, including nationals held in Las Vegas, Nevada where I placed 1st overall in my age division. I student taught solos, duets, and group classes with Ms. Deb throughout high school and college. I have been the Hip Hop instructor over the past three years at Dance Connection and I am so pleased with the progress and passion I have seen in all of my girls over these past few years. As well as teaching dance, I am a full time 2nd grade Elementary Education teacher in our local school district, Trinidad School District #1. I graduated with my bachelor's degree from CSU-Pueblo with my Elementary Education Teacher license. I have been teaching 2nd grade at Fisher's Peak Elementary for 7 years and love working with kids! Alongside these two very important careers, my most favorites job is being a full-time mother to my sassy 4-year-old daughter. She is following in my footsteps and is also receiving the most qualified dance instruction in our community here at Dance Connection. I enjoy spending time with my daughter and my family each day, whether that be going shopping, eating Mexican food, attending church, or enjoying the park. I am blessed with the most amazing parents, brother, sister, and friends. I have a passion for health and fitness and I am so thrilled to bring that positivity while instilling confidence to the youth of our community through my multiple careers!
---
KC Fredericks: Guest Choreographer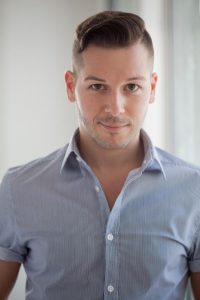 A Colorado native, KC grew up training classically and competitively in all genres of dance, gymnastics, voice, and acting. But he got his start at Dance Connection under the guidance and training of Ms. Deb! KC has worked coast to coast in the commercial and theatrical industries of San Francisco, Los Angeles, New England, New York City, and regionally at theatres across the country. He was a founding member of RhetOracle Dance Company of Long Beach, CA, Nickerson-Rossi Dance of Palm Springs, CA, and was also a resident dancer for Odyssey Dance Theatre of Salt Lake City.
KC has toured with the North American Tour of Cats, internationally playing Chistery in the Broadway National Tour of Wicked, nationally as Flounder in the National Tour of The Little Mermaid, and was recently seen in the pre-Broadway run of Tuck Everlasting (u/s Jesse Tuck). He has performed in shows alongside John Lithgow, Justin Guarini, Lea DeLaria, Kathy Najimy, Ann Harada, and Taylor Dayne, to name a few. KC can be seen in film & television airings of Disney's High School Musical 3: Senior Year, The American Mall, Live From Lincoln Center, From Broadway With Love, PBS, the Property Brothers on HGTV, as well as in music videos for artists Danny Blu & Chrissi Poland. He can also be seen in commercials and print work for NBC's Smash, Ford, MAC Cosmetics, O.C. Tanner, Ward's Boxing Club, and Nokia, dancing backup for Nicki Minaj. KC currently resides with his husband in West Hartford, CT where he continues to pursue life on the stage and screen in and outside of New York City.
"One of my favorite parts of my year is the time that I get to return to Dance Connection. I love being a small part of the students' training, especially when it comes to setting choreography. The kids are an absolute joy to work with and I cannot speak highly enough of the program Ms. Deb runs from her full heart. Dance Connection is and will always be a special part of my life and I am honored to return to my home away from home, year after year."